Distinctive Design
Distinctive Design by Judy Lauson
Hello to all!
I am a new member of AIM. My name is Judy Lauson. My ethnic background is of Chinese origin, I was born in Johannesburg in the Republic of South Africa. Before I immigrated to Canada 35 years ago, I married my husband, Doug a great supporter and the photographer of all my miniatures.
My interest for miniatures started when I use to teach Papier Tolé, which some of you may know is the craft of using paper prints to create three-dimensional artwork. At that time I was working with prints by the famous Dutch artist, Anton Pieck whose paintings depicted European buildings, people and the cobble streets in the late 1900's. One day I entertained the idea of adding miniature lights into one of the papier tolé scenes that I had created as they would have enhanced the artwork – but, it would have been too much of a fire hazard if any of the lights overheated amongst the layers of paper print.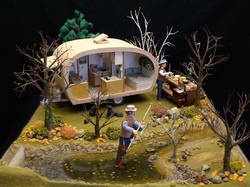 It was at that point that I decided to recreate the same scene in wood, in one twelfth scale. The shadow box that I built is based on Anton Pieck's work except that it has three shop fronts, complete with upper rooms on a cobbled street. There are shopkeepers, shoppers and merchandise in each store. Reverting to my original idea, I added tiny lights to light the street lamp posts and the insides of the shops and hand-molded each tile on the roof.
In the bakery, using Sculpi and Fimo, I handmade all the baked goods on display.
Excited about my first projects, I completed several more other projects and then I started to sell at miniature shows.
I do not specialise in one area as my sales vary from foods, flowers, crochet table cloths and baby outfits, shoes and custom diorama room-boxes. My present specialty is resin work and landscaping scenes. Water scenes and landscapes have always fascinated me. Recreating torrid movement of water and tiny waves was a challenge.
The web link below illustrates some of the work that I have done. Several of these projects have been published in the Miniature Collector.
Judy Lauson – Distinctive Design
Coquitlam, B.C.Canada.