Montserrat Riqué Bellver
Montserrat Riqué Bellver by Montse Riqué
Me llamo Montse Riqué y Blaupusa es mi nick, tengo un montón de aficiones, leer, viajar, la egiptologia, la historia, las flores, orquideas especialmente, cocinar y comer por supuesto y lo último ¡hacer miniaturas!
Me aficioné a las miniaturas hace unos 6 años aunque siempre me ha gustado y he tenido facilidad para las manualidades...me introdujo en este mundo una amiga, que de niña habia tenido una casa de muñecas y decidió tener otra..y desde aquí empecé a aficionarme.Lo que me gusta más y creo se me da mejor es trabajar el Fimo, con el que intento hacer alimentos lo más naturales posible, para mi fué de gran ayuda el libro de Angie Scarr a quién despues he tenido el gusto de conocer cuando a visitado España. http://montse-rique.jimdo.com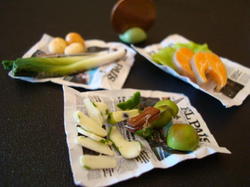 My name's Montse Riqué and Blaupusa is my nickname. I have lots of hobbies; reading, travelling, Egyptology, history, flowers (especially orchids),cooking and eating of course, and last but not least making miniatures!
I started making miniatures about six years ago although I've always enjoyed craft work…A friend introduced me to the miniatures world. She had had a doll's house and when she decided to have another one my fascination with them began. What I most enjoy doing and I think is my best thing to work on is Fimo. With it I try to make food as lifelike as possible. I found Angie Scarr's book to be a great help and I had the pleasure of meeting her when she visited Spain.
If you would like to see more of my work please visit my website…..