Buttercup Miniatures
Buttercup Miniatures - miniature knitting & crochet patterns...
Established in 1999 our family run firm specialises in miniature knitting and miniature crochet in 1/12th 1/24th and 1/6th scale. We design miniature knitting patterns and miniature crochet patterns for doll house dolls and dolls houses plus some 1/6th scale (these are marketed under the name Farthing Patterns). Some of our patterns have been published in the AIM magazine, Dolls House and Miniature Scene and The Dolls House Magazine.
For full details of all the patterns we sell as digital downloads, hints and tips for miniature knitting and crochet, plus free patterns for knitting and crochet, please visit our web site.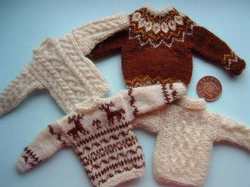 Contact Details