Carolyn Mohler Kraft...
MINIATURE FOLIAGE HOUSEPLANTS
I have been making miniature foliage houseplants since 1980.

In 1999, miniatures were replaced with a growing family.

My family is now self-sufficient enough and I am able to get back to making plants again.

Although I felt like I was starting over, my twenty years experience finally started to kick in, and I am once again making plants.
My plants are made with floral tape and polymer clay.

In addition to my personal collection, I have had the opportunity to see several of the plants I sold many years ago.

I am pleased to say they are still in excellent condition, and I can say with confidence that they have withstood the test of time.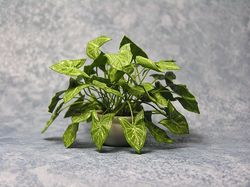 I was published in Nutshell News in 1987, and again in the September 2009 issue of American Miniaturist.
It was somewhat of a shock to return to the world of miniatures, which was limited for me to a few local shows each year, and mail order from the exposure created by the Nutshell News article. What I found on the internet was an explosion of new techniques, incredible talent, and easy accessibility. I am very excited to once again be a part of the miniature world on a global scale.
Carolyn Mohler Kraft
Website: www.carolynmohlerkraft.com