Casbah Miniatures...
Casbah Miniatures...
Natalie Brooks lives in a modified post-moderne abode with her husband Robb and Nikita, her wise and beloved American Eskimo dog. Her streak of creativity manifests itself in gourmet-quality cooking talents, hilariously acerbic wit, and, most recently, her fabulous miniatures. She earned her Associate of Arts degree in Albuquerque where she has lived for more than a decade. Other interests include an eclectic art collection, reading, gardening, and spoiling nieces and nephews beyond redemption.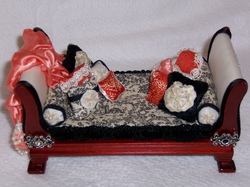 Casbah Miniatures (www.casbahminis.com) is an outlet for her one-of-a-kind one-twelfth scale dollhouse furnishings. Her creations are primarily period pieces, ranging from Art Deco and Nouveau to French Provincial, and beyond. She and her mother exorcise their frustrated childhoods by building and decorating dollhouses, but Natalie's current foci are the bedworks and other furniture she has to offer through her website. A stunning Victorian (the Garfield) won not only the Blue Ribbon, but the Purple Best of Show at the New Mexico State Fair in 2009.