The Craft Pack Company...
The Craft Pack Company...
Hello, its Lorraine Cooper from the Craft Pack Company. This wonderful hobby has brought me so many pleasures over the last few years and it just seems to get better and better. If you don't already know anything of my business, here is a little on what I do:
The Craft Pack Company design and create a wide range of miniature project kits for the Doll's House Enthusiast. We stock hundreds of designs from Bridal kits to nursery themed kits and bathroom kits, maybe something for every room in the dolls house. As well as our own extensive range of DIY project kits, we stock a selection of kits form around the world and raw materials including fabric, lace, ribbon and miniature jewellery making pieces for the miniaturist who likes to make their own designs.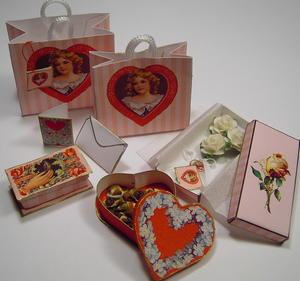 The Craft pack Company also stock a selection of quality handmade miniatures, some made by ourselves ( see pictures) and others from your favourite makers. We now stock kits in 1:12 scale and 1:24th including plants, flowers, miniature clothing, jewellery and our series of print and make at home craft discs.
Simply, if you love dolls house DIY, there may be something here for you to feel inspired by! We have free online printable ion the news page, a monthly subscriber newsletter and regular prize giveaways.