Crown Jewel Miniatures
Crown Jewel Miniatures by IGMA Artisan Robin Brady-Boxwell
My name is by Robin Brady-Boxwell and I've been designing and creating one inch scale dollhouse miniatures since 1979. My passion as a miniaturist began when my father and I began constructing a dollhouse from a kit in the basement of our home and my interest continues to grow with each passing year.
Several years ago my efforts as a miniaturist were noticed by the owner of a local dollhouse shop, and before I knew it I was selling my miniatures through Dollhouses Plus, Stratford CT. As an artist, I found I could not limit myself to one specialty, and I created everything from miniature food to plants, furniture and jewellery. My interest in creating realistic miniature room settings led to my hire at the store and I became the chief consultant for dollhouse interior design. Soon I was helping customers coordinate wallpaper, tiles, molding, wood, lighting, furniture, textiles and other various architectural elements to achieve their miniature dreams.
While I still love interior design in miniature, I've discovered a passion for accessorizing miniature furniture. I've "loaded" everything from china cabinets, to tables, to sewing machines, giving the illusion that "someone was there". Realism quickly became my cornerstone and when I finally made miniature food my primary concentration I knew I was in my element.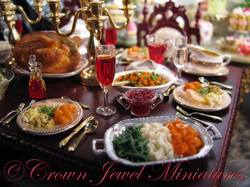 The explosion of Internet commerce changed everything almost overnight and I watched in sadness as most of the dollhouse shops in New England closed - including the one I was working in. It was a sad time but as one door closes, another opens and armed with experience and an endless resource of creativity, I decided to open my own business online. This brought me together with collectors and miniaturists from all over the world!
In March of 2010, I began Crown Jewel Miniatures, and my constantly evolving range of miniature creations are now sold online through Ebay and Etsy. By April 2014, I was honoured to be selected as an IGMA Artisan in the category of Food. Private commissions now take up the majority of my time and my passion for continuing to hone my technique continues.
Website: http://www.CrownJewelMiniatures.com
Ebay: http://shop.ebay.com/Crown_Jewel_Miniatures/m.html?_dmd=1&_ipg=50&_sop=12&_rdc=1
Etsy: http://www.etsy.com/shop/CrownJewelMiniatures
If you have any questions or would like to learn more about my miniature creations, please contact me at:
Artisan@CrownJewelMiniatures.com