Ella-Rose Miniatures...
Ella-Rose Miniatures ...
Ella-Rose Miniatures was created by myself 5 years ago. It came about from my passion for dollhouse miniatures and the need to create realistic, unique accessories for my dollhouse. Over the years my natural passion for art and crafts has taken me down many different avenues, allowing me to express my art in many different forms.
My creations are born from an obsessive tendency to be constantly on the look out for inspiration for my work, be it shopping in the local supermarket, a day out at the beach or crazy colour combinations from all I see. All of which gives me inspiration and ideas to create unique miniatures that would brighten up any dollhouse, shop or ornamental display.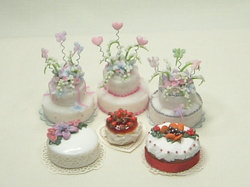 My work so far has been published in several editions of Dollhouse and Miniatures Scene magazine, which gave me an enormous sense of pride and satisfaction, and keeps me motivated and proud of my journey so far.
My family and friends have supported me all the way and therefore I owe a great deal of thanks to them. Especially my son, who is the best judge and critic of all my work.
Ebay seller id: ella-rose36
Blog: ella-roseminis.blogspot.com