La Petite Belle Patterns...
La Petite Belle Patterns, Fashions for Miniature Dolls...
La Petite Belle Patterns are 1/2th scale patterns to fit your fashion figure beautifully. There are also fashions engineered solely for accessories and miniature vignettes.

Each selection includes instructions, pattern and diagrams for everything in the picture and other useful tips to complete your costume, project or accessory for your dollhouse or miniature scene.
The patterns are designed by Kathi R. Mendenhall, IGMA Artisan, from Fashion Plates or pictures from yesterday and the runways of today.

There are antique, vintage and modern from which you can choose.

Each Gallery on the website displays patterns fitting a specific theme.

There are also patterns and instructions for some miniature project suitable for club activities and great gifts.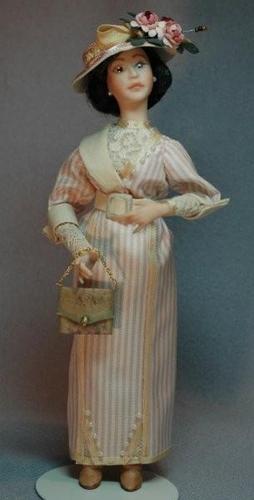 The patterns are come in a 4 1/4" by 5 ½" booklet protected by a zip top plastic bag.

The bag is great for collecting up all your supplies.

Patterns are easy with some challenging ones, but each is filled with sewing and gluing techniques for miniature dressmaking.

There are additional tutorials on the La Petite Belle Patterns website.

(http://www.minipatterns.com)