Lidi Stroud...
Lidi Stroud...
My name is Lidi Stroud and I have been making miniatures for a fair few years now!!

My favourite doll house scale is 1:12th and my favourite period is Tudor.

And of course, I love making miniature baskets.
I was taught to make baskets by a real life basket artist with the result that my formal baskets (e.g. picnic, shopping, egg/buttocks baskets) are made in much the same way as the real size ones.

I use fine cane for frames and stakes, and waxed linen thread for weavers.

When making fowl baskets, lobster pots and other open structures, I use wire for stakes to give rigidity to the basket.
My twined baskets are made using 2 ply waxed linen and sometimes I add embellishments such as small beads, shells or feathers depending on the style of basket I am making and the creative mood I'm in at the time!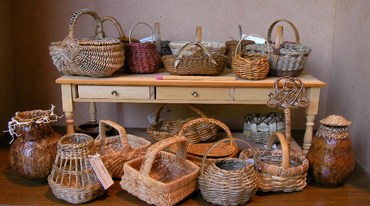 Whilst I make baskets of similar design and style, they are all originals, as no two baskets are ever exactly the same.

My work is available to purchase through our website and I am always happy to do special commissions.
I am located in New South Wales, Australia and am happy to ship world-wide.
I can be contacted at:
Website:

www.intominis.com