Lydia Murphy...
Lydia Murphy...
Hi - I'm Lydia Murphy, an avid enthusiast of many needlework techniques but especially crochet - miniature crochet being my passion for the last 4 years. I was born in Kingston, Ontario, Canada 59 years ago and have never lived anywhere else, nor have I ever wanted to. Just celebrated my 40th wedding anniversary with my wonderful husband Dennis who shares my love of crafts (mostly woodworking for him) but prefers playing the saxophone with several friends in a "just for fun" band. Hopefully soon he will enjoy a jazz roombox I have been working on, just for him.
When I first taught myself how to crochet, way back in 1974, my main concern was making gifts for baby showers and accessories for the home. Later on when we moved to a large century old village house, I operated a small craft shop in the sunroom area, crocheting dolls, clothes, afghans, doilies etc...as well as doing a little sewing and quilting. We moved back to the city in 1992 and it took another 13 years before I would find and thoroughly enjoy, miniature crochet...creating teeny, tiny little dresses, hats, panties, afghans, rugs and doilies, plus a great deal more, in 1:12 scale for a doll house and its little inhabitants. And I love it!!
Beginning with Issue #154, April 2007, my designs have been featured in my favourite miniatures magazine – Dolls House and Miniature Scene – with my Oval Table Centrepiece as well as my Pansy Doily....followed by my Flower Motif Afghan in Issue #156, June 2007 and Nursery Sampler Afghan in filet crochet in Issue #158, August 2007. Over the last two year some of my mini dresses for both the rubber baby dolls as well as other 1:12 scale dolls, have appeared in various issues of this fabulous magazine that caters to all aspects of miniatures. To date, more than 18 of my designs have been published and I hope to continue designing for years to come.
Most of my time is spent in designing a variety of items for the crocheter and miniature enthusiast. However - my mini crocheted items and occasionally a few dressed miniature rubber babies are for sale, as well as a few knitted pieces along with miniature quilt items, so please send me an email if there is something that interests you. I have a huge stash of threads in solid and variegated colors. Special orders are welcomed as time permits. Email me and we can talk.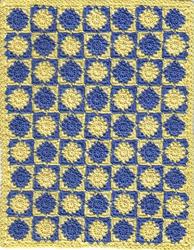 Several of the new threads I've worked with lately include Thimbleberries 50wt, Mettler Silk-Finish and Gutermann silk as well as Venne Unikat Colcoton cotton threads – all very suitable for miniature knitting or crochet. My cotton thread of choice for my miniatures has always been Valdani – a long staple, quality cotton thread available in many solid and variegated colors.
Please take a few minutes to check out the many delicate and detailed miniature crocheted items in my Etsy auctions (these are but a sample of the finished items available), which can be purchased with the click of a button and even paid for with Paypal for immediate shipping - more to be added on a regular basis - PLEASE email with any questions about a possible custom order, or if there's an item you like but would prefer in another color...I'm always open to discussion with no obligation on your part until an actual order is placed