Marties Minis
Marties Minis by Martha Tyler
My name is Martie Tyler and I live in the southern state of North Carolina. My love of miniatures began when I was a child and received a dollhouse for Christmas. Over the years, that same love could be seen in my desire for dolls and toys that were small.
When my daughter was two, I started collecting dollhouse furniture in the hopes of having my husband build me a dollhouse one day. Before my husband became disabled with Parkinson's Disease, he built me a four story townhouse. It's then I found a dollhouse/miniature club in my area and started with filling my house. To support my "habit" I found myself making and selling accessories such as clothing and hats. As my husband became more disabled requiring more of my time; therefore I was left with little to no time for my hobby for many years. It took making a special miniature room box as a gift for someone to rekindle my love for miniatures.

Today, I enjoy creating food items, plants and flowers. I like to extend my southern hospitality into the miniature world through traditional southern meals. Someday, I would like to be the Paula Deen of miniature foods. As to the flowers, I think they brighten the dollhouse rooms. I enjoy creating simple country arrangements as well as centerpieces and outdoor plants. At least, these miniature plants and flowers won't die from lack of or too much water.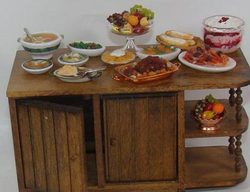 I enjoy sharing my love of miniatures with others like teaching workshops at the Greensboro Miniature club where I am a member. Last year, I started selling my creations at miniature shows. At one show, someone had placed a chair for an older miniature shopper to sit. This became a place where other shoppers would "come and sit a spell" and discuss miniatures and my creations. I am just beginning to sell items on my website www.martiesminis.com and my plants in the Custom Dolls, Houses and Miniatures gallery.
The address for my gallery is www.cdhm.org/user/martiesminis.
Contact Information:
Name: Martha Tyler
Business Name: Martie's Miniatures
Web Address: http://www.martiesminis.com
email: martietyler00@aol.com