Mini Menagerie...
Mini Menagerie...By Kristy Taylor
About Me:
I live in Portland, Oregon with my husband and am a mom to two of the most spoiled cats you could ever know. I've always loved to draw cartoons and animals since I was a small child. About 10 years ago, I discovered Flash animation and was thrilled to be able to make my 2D creatures come to life on the computer screen. But when I discovered polymer clay, and realized how I could transform my two dimensional creations into little three dimensional creations that could be picked up and held and looked at from all sides, I couldn't stop sculpting. It was, and still is, my happy addiction.
About My Mini Menagerie:
Being a lover of all animals as well as all things cute and tiny, there's nothing I enjoy more than creating my miniature animals to share with others.
Each animal is hand sculpted from polymer clay, accented with acrylics and/or special inks, and carefully covered in "fur" (usually either alpaca, wool, silk or synthetic blends) small bits at a time. I like to combine realism with fantasy and try to give them their own human-like personalities in the sculpture while giving them a more realistic, life-like appearance with the application of fur.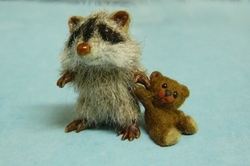 Each tiny animal can take several days to complete, a time-consuming process but one I feel is worth it in the end. The sizes of my animals vary, but most are between ¾ inch to 1 & ¼ inch and would be suitable for doll houses. I also enjoy making miniature food, furniture and accessories for the animals to enjoy.
My sculptures can be purchased through my website which is regularly updated with new miniatures. Each creature is a one of a kind signed original. I also accept commissions and special orders, so just let your imagination take over and I'll do my best to make it come to life for you.