Miniatures Perfectly Small
Miniatures Perfectly Small by Lynn Jowers
My home is in "The Wilderness" a small village on the beautiful "Garden Route" coast of South Africa.

For me the interest in miniatures began more than 20 years ago with the purchase of a partly built dollhouse at a street auction in England.

Although I did not add much to that dollhouse; it did light the fire in me to build my own design of dollhouse and some of the furniture. Woodwork was not new to me as my husband and I have made many pieces of full size furniture for our home over the years. We had the band saw, scroll saw, thicknesser etcetera.

As I knew all about dovetail and mortise and tenon joints, I just had to scale things down a little.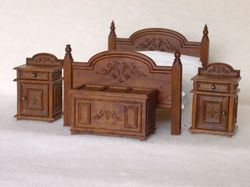 My biggest challenge was thinning the wood down to 1 mm or less, but once I had overcome this little hurdle there was no stopping me.

Beginning with items for myself; then for friends and family.

Two years ago I introduced 3D relief carving to my miniatures and this has led to commission work and has kept me quite busy.
Contact Details
Web site:- www.miniaturesperfectlysmall.com

Email:- oneforaim@aol.com

Address:- PO Box 910
Wilderness.
6560
South Africa