Olga Asensio De Haro...
Olga Asensio De Haro...
Hola mi nombre es Olga soy de España Barcelona
Empecé en el mundo de las miniaturas hace unos 5 años
Como todas en nuestros comienzos hacia cosas sencillas
Cuando fui a mi primera feria la gente me animaba
Y al poco tiempo me decante por hacer maletas, bolsos, baúles
Al poco tiempo hice libros, pop-up, troquelados, y libros de todo tipo, sobre todo para coleccionistas de edición limitada,
Que solo los vendo en tiendas y a particulares.
Cuando empezamos hacer una miniatura, lo único que nos importa, es que les guste a la gente que nos compra.
Vendo para todo el mundo, desde EEUU, INGLATERRA, JAPON,CHINA,
Este mundo me apasiona y mientras pueda y tenga la ilusión seguiré creando miniaturas, y satisfaciendo a mis clientes, les doy las gracias a A.I.M por darme la oportunidad de conocer
A tanta gente que es un ídolo para mi, en este mundo tan pequeño, espero veros a muchos de vosotros por las ferias de todo el mundo besos a todos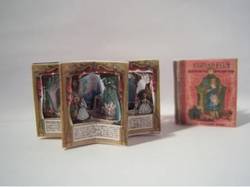 Hello my name is Olga. I am from Barcelona in Spain. I began in the world of the miniatures about 5 years ago. I began making simple things. When I went to my first fair many people praised my work and encouraged me to make suitcases, purses and trunks. Soon afterwards I began to make books, MGP-up, troquelados - books of all types, especially limited edition for collectors.
When I began to make a miniatures, it is special that our customers come back to us time and time again. We sell to everyone, , from the USA, to ENGLAND, to JAPAN and even to CHINA.
I am very grateful for all the interst in my work and I will continue to create miniatures as long as there are customers.
I would like to give my thanks A.I.M for allowing me the opportunity to share my work with the miniature world.
I look forward to meeting as many of you as posible at fairs.
Many thanks and kisses to all