Angelique Miniatures
Finest Miniature Dolls, Fairies and Couture Doll Clothing
Angelique Miniatures designs and creates a huge range of miniature dolls and doll clothing.
Angelique's range includes:
One twelfth scale historical character dolls of all periods and social classes, suitable for dolls houses.

A unique collection of one twelfth scale kings and queens including Henry VIII and wives, Elizabeth 1st, Queen Victoria etc. etc.

A magical collection of miniature fairies, mermaids, enchantresses, wizards, pond dwellers and many, many more

The 'Once Upon A Time........' collection: A charming selection of popular fairy tale and nursery rhyme characters such as Cinderella, Sleeping Beauty, Bo Peep etc, in one twelfth scale.

A stunning range of classical ballet and other theatrical costumes for the 16 inch ballerina fashion dolls, Clea Bella and Robert Tonner's NYCB ballerina.

A wide range of contemporary fashions for 16 to 23 inch plus dolls such as Tyler Wentworth, Gene, American Model, Sissy etc. etc.

A stunning range of historical costumes for most 16 to 23 inch plus sized fashion dolls.

Heirloom style clothing for 'reborn' baby dolls.

Many other unique and charming doll clothing from antique to modern in design.
Louise Goldsborough, Proprietress of Angelique Miniatures says:
I have always loved and collected dolls of all sizes since I was a little girl and began sewing for my dolls at about the age of eleven. This became an avid hobby for me whilst I pursued my dancing and theatrical career but in 1987, fate decided to deal me a cruel hand and I suffered a bad accident whilst working on stage as an illusionist's assistant.
I decided to turn my love of doll making and dressmaking into a business and Angelique Miniatures was begun on 7th March 1988.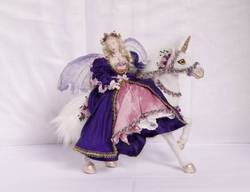 Originally I started by making up and dressing bought porcelain doll kits and selling them to local gift shops. Quite early on, one of the shops asked me if I would consider dressing a miniature doll for them and, as they say, the rest is history.
After a few years, I learned the art of making miniature porcelain doll parts thus enabling me to create exactly the type of character dolls that I and my rapidly growing collection of customers wanted. The ensuing years have allowed me to perfect my self-taught skills of doll dressmaking and Angelique was able to expand into clothing for other dolls sizes. I was also taken on as a designer at the British doll company 'Alberon' and have since gone on to become a guest designer for the American 'Clea Bella Company'.
I am now able to offer a unique and unrivalled range of miniature dolls and doll clothing to customers all over the world.
It has brought me an immense amount of pleasure over the years and I have met so many wonderful and talented people.
I look forward to the next twenty years.
I am always happy to accept commissions and can be contacted by e-mail, phone and post.
Contact details