Anro Miniatures
Anro Miniatures
Like many people, I became interested in dressing dolls at a very early age. I designed and made clothes for the people in my dolls house. Everything was scarce during the war and worn out jumpers were unpicked to reuse the wool. From the broken ends that were too short for anything else, I would knit dresses in colourful designs including fairisle. At college I studied Art & Design before working for Norman Hartnel for a short period before my marriage.
I became involved in miniatures again when my grandchildren wanted a house, and everything in it, and shops. About three years ago I started making and selling at dolls house fairs.
Having learnt embroidery at my grandmother's knee, I enjoy interpreting traditional embroidery into miniatures. I often visit museums and collections for inspiration.
Being interested in fashion I like the way different fabrics hang, how they drape and mould naturally, whether on a body or hanging on a peg, draped across a bed or chair. The use of this knowledge helps to give authenticity to my clothes. To achieve this, fabrics are chosen with great care and everything is hand sewn even to the tiny loops for buttons. I do not spray the fabric after making. I think this practice can make the finished article look stilted and resemble a cabinet doll, losing all sense of reality.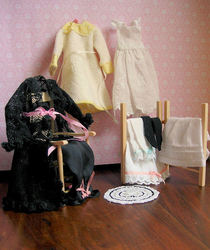 I especially enjoy carrying out commissions, be it something small like a jam covered apron to hang on a chair, researching and making school uniforms, interpreting old photographs, or filling miniature furniture with clothes from a bygone era.
Although most of my work is in 12th scale as I believe that this scale gives me the flexibility to incorporate different ideas and designs, I have started to produce some 24th examples.
Contact details