Debra Jackson Designs
Debra Jackson
Deb has always been fascinated by miniatures and looking at the items listed on Ebay led her to have a go at making some things herself. Her first items were in Fimo but her work is now multi-media as her material base has expanded to reflect the huge subject matter she now covers. She set out to make unusual items - all unique and very detailed for the serious collector. Her subject matter is incredibly diverse and she works in all scales. Commissions have been a particularly rewarding sphere when Deb has frequently produced items that people have all but given up hope of finding elsewhere.
Some of her items have included - medical items from E.C.T machines to trepanning sets, travelling apothecary boxes to large apothecary cupboards. Religious pieces included hymn boards, collection boxes and censors. Another favourite amongst her customers have been her intricately detailed vanity boxes with perfume bottles and manicure items.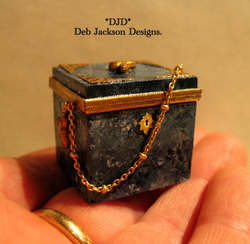 Tangents are a speciality though with such weird and wonderful pieces as a Tudor swaddled baby hanging on a coat peg (yes the Tudors actually did this!). She has also made a torture rack and ducking stool, severed limbs, boxed glass eyes and many fairy houses - all 1/144th scale or even smaller...... complete with furniture and stairs. Several of these delightful pieces have been in a walnut shell. These items are just the tip of the ice-berg... and with her ideas book overflowing look out for many more unusual items to come.
Deb is a Kensington Doll's House Festival and Miniatura exhibitor.

Contact details
Her items can be found on her web site www.debjacksondesigns.com/ the site features current items for sale and also a gallery of sold work;on Ebay where her id is jamnatmat and selected fairs.
She can also be contacted by phone: 01782 776849.