Dolls House Bears
Original Design Dolls House Bears by Josephine Parnell.
My Bears are designed to be the Bear equivalent of a Dolls House Doll. Each Bear is fully poseable, having internal armatures, and has a turning head. They are accurately scaled in either 12th or 24th scale so are very happy living, or working, in any Dolls House. Having had a 'proper' up-bringing you will find they are well behaved and amiable companions and are each individually skilled in their chosen field - most are multi-skilled to take on any extra tasks that they may be required to do. Being so specialist and containing small parts they are for adult collectors only so are not suitable for children. I have two styles of Bear that I currently make. My earlier design are Bears that are made of a plush fabric so are consequently furry. I now have a range of Bears that are made from a fine ultra-suede so are not actually furry. They are still obviously bears and can include other details that are not possible with the plush, which are that they have eyelids and also have thumbs that can grip. Being already poseable this adds an extra dimension for those amongst you who like to play and have your Bears doing practical jobs around the house.
I attend the Miniatura shows and sell from my web site but as I do not have a shop I cannot accept personal visitors although to see some of my Bears you will find Taylor's Miniatures in Goring-on-Thames has some on display and Judy Taylor can also arrange an order for you.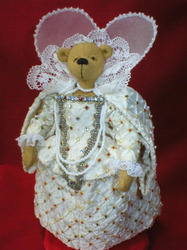 They are all individually made and dressed, mostly to commission, by myself from quality fabrics mostly using patterns that are scaled down from patterns for people.
I welcome commissions and I dress Bears from any historical or imaginary period. I welcome the input from a customer. The more detail you suggest the nearer my results will match what you desired.
Of course included in the required details can be the age of the character and such details as being short, tall, overweight or even grumpy looking and even a choice of Bear colour.
I make my orders on a first come first served basis. If you are interested I will give you a price at the beginning for the completed Bear as well as an approximate time when it will be ready. Once finished I then send a photo to confirm that all is well and only then do I ask for payment.
Contact details