House Of Mindy...
House Of Mindy...
About me...
I was Army Catering Corps trained and then spent considerable years in catering. I have loved hosting dinner parties and one family Christmas was a full 24 course meal. I did it, on my own, cooked myself and served on time! Trevor and I don't have children, but we loved our two Yorkshire terriers, called Mindy & Cutie. Sadly Mindy died some time ago, which was when we started the business of Dolls house and miniatures, called appropriately - The house of Mindy. It keeps her name and memory alive.
I love to sit and make the miniatures, especially new things. My work has been both highly featured in the DHMS magazine and also reader's offers which we have done very well with
I don't refer to myself as anything special, expert or otherwise and I don't profess to do so either. I just like to think that I try and do the very best I can at what I am making. I try to make the roast turkey look oily, wet, spiced and roasted, I try to make things look alive and well people say how much they admire my work I am pleased.
T

revor is the Proprietor of the business and he enjoys doing his special hand decorated furniture as well as the behind the scenes stuff and of course-the driving to shows. We don't have a shop, we sell through shows and exhibitions of which we do about 50+ a year. Also mail order and I am currently setting up our web site.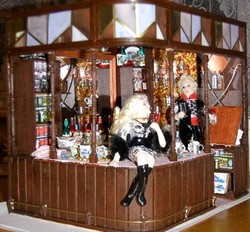 What We Offer...
Well, quite a wide range really, from Hand made to non hand made, from 10p to £50, we try to offer something for all levels of collectors such as the younger generation to the more specific collector....lets not forget that the younger collector of today with just .25p, whether its a imported or hand made item, is actually our more specific collector of the future. We have a very wide range of foods such as British Hand Made; Butchery, Bakery, fruit, Vegetables, Meal Sets, Tea Room items; Wood ware etc. in fact so many it would take forever to list. But imagine you want a dining room full of festive food, wedding or a cake shop or meat shop, stall or some other idea, more than likely I can provide it.
Commission work; Yes I undertake this and it does take me a long time to do, My Most Recent is the design, construction, finishing and completion of a Pub bar set for one of our regular customers, It has taken about 6 months.
A spin off to our business is the interest and supplying of Craft materials such as Sculpey, Paints, Glues and recently The interest of my Barbie & doctor Who related items, they seem to have found a niche in the miniature world.
Contact Details;
Contact me at, paul.e.taylor@btinternet.com
Correspondence to; c/o 11 Elizabeth Close, earls Barton, Northampton,NN6 0HZ
Please say hello to us at the shows we attend. Unfortunately there are only two of us....well 1 and a half as Trevor is recovering from open heart surgery at present, so at times I can get so busy that I don't have time to respond to enquiries straight away, but we always will answer any enquiries.