"MINIMONTSE"
MINIMONTSE...
Who am I?
My name is Montse Vives. I live in Barcelona, a beautiful Mediterranean city. I've always loved all things handmade, from painting to cross stitching, modeling, sewing, woodworking…and I found my perfect match in the miniatures world, because I can practice every single technique with every single material.
What do I do?
That's difficult to say being a "tastaolletes", a catalan word for someone who likes to try everything, but since I began going to miniature Fairs I started specializing in
Miniature animals, especially birds. All of them fully handmade with no moulds used, and furred or feathered. * I also make taxidermies, heads for wall hanging, "hunted" birds such as pheasants, and also animals which do not have fur at all, such as fish and reptiles.
Dolls and babies. I try to make "different" dolls: Fat ladies, blues singers, and animal characters inspired in Beatrix Potter Characters.
I also make some small items, such as snorkel equipment, or decorating items for the dollshouse. And of course, I can make any commissioned animal or doll that you want.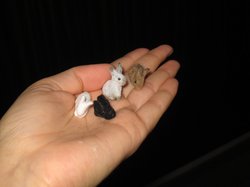 Where can you see my work?
I currently keep a blog, http://minimontse.blogspot.com, where you can find my newest work, some work in process, pictures of the fairs I've been too, and where I'm planning to put some tutorials.
I also have a website, http://minimontse.jimdo.com , with my full catalogue and prices.
You can contact me at minimontse.info@gmail.com for any inquiries, commissions, or questions in general.
*Please note that I never use real fur, and that the feathers I use are either a subproduct of alimentary industry or given by bird owners when their pets are changing feathers.