Templewood Miniatures
Templewood Miniatures incorporating Fine Flowers in Miniature
Miniature laser cut kits in all scales .......Dollshouse to dollshouse dollshouse size! - From dollshouses to micro room boxes to micro furniture to micro people
We specialise in laser cut kits designed and cut by ourselves and purchased from artisan designers from the US and Europe, in scales ranging from 12th to 576th.
Kathryn has been a flower arranger for over 35 years and making miniature and full size flowers for nearly as long, this developed into our business of 'Fine Flowers In Miniature'. We specialise in the 'Blooming Easy' range of high quality laser cut flower and plant kits which are imported exclusively by us from the US. This led to us buying a laser cutting machine and we now design and cut quality houses, plants and furniture plus we have a range of recommended tools and accessories including the workbox friend and a unique leaf veiner both designed and cut by Alan, this in addition to the 'Blooming Easy' laser cut flower kits, some of which are now designed exclusively for us.
144th scale
In the last few months we have expanded and have bought a range of 144th houses and furniture and we are now your 'one stop shop' for 144th scale. These additions to our ranges has meant a change in our name from 'Fine Flowers In Miniature' to 'Templewood Miniatures' plus we will be introducing a brand new, easy to navigate, 'Templewood Miniatures' web site.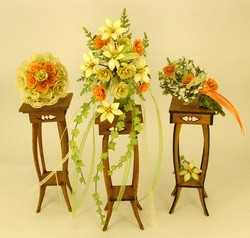 We also offer a laser cutting, bespoke service to miniature artisans in the UK - please ask us for details.
We attend exhibitions in the UK, USA and Europe; in addition all our stock can be purchased through our on-line show
Kathryn teaches workshops in cold porcelain, miniature flower making & arranging and our garden & house structure kits, please contact us for further information.
Contact details