The Dolls House Mall
The Dolls House Mall: quality brass and stainless steel miniatures
In the spring of 2004 I began to put together a range of dolls house accessories for sale that I hoped people would want to buy. Now in the early spring of 2008 I have over 500 items on sale, in both 1:12th and 1:24th scales.
I draw most of the items myself and have them etched into brass or stainless steel. Some others are hand made in other materials.
Quality and attention to detail is important to me and I work hard to make sure that this is evident in all of my products.
Throughout most of my working life I have been a professional electronics technical illustrator; working on the technical drawings used to develop etched model trains and racing car illustrations. My skills have now progressed, from the use of a drawing board to the utilisation of my PC. This has been both an exciting venture and a massive learning curve and with time has been proved to be well worth all the extra effort.
I am really pleased with the results and I hope you think so too.
My items are available via mail order through my website, on e-bay and occasionally at specially selected Dolls House Fairs.
Carol Lester
1:12th crib board (below) 1/24th kitchen utensils (right)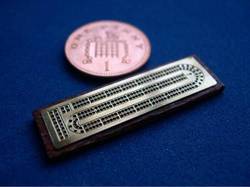 Your help required?
I am constantly developing new products to include in my ever increasing range of dolls house miniatures. I pride myself on being proactive to the needs of my customers and if you have an idea for an item that you would like me to produce – please feel free to share it with me.
It could be anything, from a special sign made for your little home to something more complex…
Just let me know!
Contact details