Tower House Dolls
Tower House Dolls
Authentic miniature Victorian doll's dolls, toys and playthings for the doll's house child, designed and handcrafted by artisan Sandra Morris.
My range includes the following tiny dolls and toys
Miniature Bébé Jumeau style doll's dolls
Glass-eyed dolls
Miniature Victorian bridal doll
Toy doll trunk & clothes
Tiny ballerinas & fairies
Tiny toy baby doll
Googlie & Kewpies in miniature
Pierrot, marionette and puppets
Assorted Marotte toys
Toy bears, rabbits and cats
Miniature antique animal pull along toys
Vintage games
Contact details
Sandra Morris - Tower House Dolls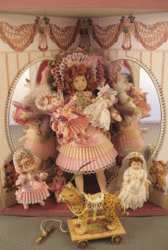 How the dolls are made
My very special tiny toy doll's dolls take many hours to complete, beginning life as a few thimblefuls of porcelain slip and undergoing a magical metamorphosis to emerge as a finished miniature work of art.
The range is constantly evolving and many weeks are spent in 'research and development' both for the dolls themselves and their various costume styles.
In terms of the technical challenges, I have to develop new techniques and design and engineer tailor-made miniature tools to perform the delicate tasks involved in creating these tiny dolls, such as cutting out the eyes for my new glass-eyed toy dolls. These limited edition miniature toy dolls have real glass eyes which measure just 2mm in diameter! Imagine trying to work inside a head cavity no bigger than a pea, manipulating tiny eyes only slightly larger than a mustard seed.
This attention to detail is continued throughout the costuming process. Wherever possible I use original vintage lace and trimmings which are perfect for the most special little doll's dolls. I often hand-dye silks, ribbons and lace to obtain just the right mellow, antique shades and tones of colour.
Dolls are fitted with real silk underclothes and wear either tiny, delicate lace socks, or the softest silk net stockings, often dyed to match their outfits.
Shoes or boots are made from tissue-thin leather, or silk ribbon, according to style, and may be decorated with tiny buckles or minute ribbon rosettes.
The costumes themselves are painstakingly researched from original sources and from images depicting dolls from the heyday of porcelain dollmaking including Jumeau, Steiner and Bru. Jackets are created from up to 7 separate pieces and everything is hand sewn.
When the final finishing touches have been added, each doll is nestled in its own bespoke tissue-lined box and issued with a numbered, dated and signed certificate which also includes a colour photograph of your very own little toy doll's doll.
I keep careful notes of all the costume details and a photograph of each doll I create so I can guarantee that no two are ever exactly alike.
Special commissions are very welcome. Simply contact me to discuss your requirements.